Stepping Stones News 5-14-21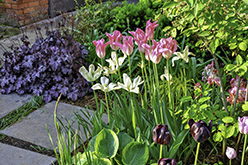 ---
Dear Families,
We had a fantastic in-service day today, learning about how the Circle of Security impacts our environments as an Early Childhood team and, as a whole school, the science behind children learning to read. This past week has also provided several opportunities for follow-on work that demonstrates Montessori children's creativity and thoughtfulness. In Pond, Lower Elementary children were presented a lesson on Pablo Picasso. Attached are a few of the portraits that they were inspired to create in the cubist style. In Children's House 1, a reading of the book Our Skin sparked a conversation about race and racism. Brianna introduced the children to the concept of protest signs and they wanted to create their own messages of resistance, love, calls for justice and peace. One of those signs is also attached here.
Covid Updates
Governor Walz removed Minnesota's statewide mask mandate today. Minnesota's Safe Learning Plan is in place until the last day of teacher contracts - masks must still be worn by staff and children, including on the bus, until at least June 16. It is also important to note that St. Paul has not lifted its city-wide mandate. We are not yet able to make any statements about our Covid protocols for summer programming or the fall.
Our weekly Covid testing day this coming week is Wednesday. We will be happy to accept your family's Vault at Home saliva tests, in their sealed biohazard bag.
And, spaces are still open for our vaccine clinic on Monday morning! Please note that the vaccination is free, but it is helpful if you bring your insurance card and pharmacy card (if you have one). Insurance is billed for expenses like syringes and sharps disposal, a cost that will not be passed on to you, with or without insurance.
Little Free Library
Hopefully you have noticed our new Little Free Library in front of Cornerstone! We are so grateful to the Sauer Family Foundation for providing the library, and to the Montessori Center of Minnesota for its installation. Please borrow and donate books for children of all ages!
Free Clothing Event Tomorrow
The Giving Rack is having a going-out-of-business "sale" tomorrow between 9am and 3pm. Click here for directions and more information.
Federal Broadband Internet Program
Eligible households can receive a monthly discount on internet service, as well as a one-time discount on a computer/tablet. Eligible families include those who qualify for free or reduced lunch. Please let us know if you need to complete an Application for Educational Benefits, to receive benefits for qualifying, or if you would like any assistance in accessing this program. More details can be found here.
Looks like a beautiful weekend ahead of us! Enjoy!
Alyssa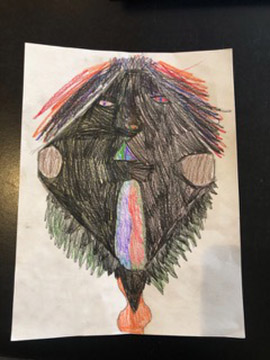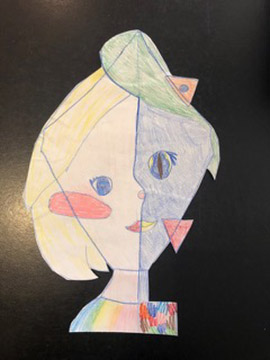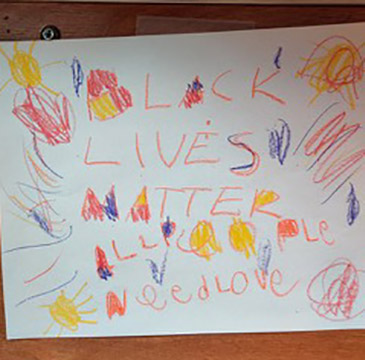 Queridas familias,
Tuvimos un día fantástico en el servicio hoy, aprendiendo cómo el Círculo de Seguridad impacta nuestro entorno como equipo de Educación Infantil y, como escuela en general, la ciencia detrás de los niños que aprenden a leer. La semana pasada también brindó varias oportunidades de trabajo de seguimiento que demuestra la creatividad y la consideración de los niños Montessori. En Pond, se presentó una lección sobre Pablo Picasso a los niños de Primaria Inferior. Se adjuntan algunos de los retratos que se inspiraron para crear en el estilo cubista. En Children's House 1, la lectura del libro Our Skin provocó una conversación sobre la raza y el racismo. Brianna les presentó a los niños el concepto de carteles de protesta y querían crear sus propios mensajes de resistencia, amor, llamados a la justicia y la paz. Uno de esos letreros también se adjunta aquí.
Actualizaciones de Covid
El gobernador Walz eliminó hoy el mandato de máscara estatal de Minnesota. El Plan de Aprendizaje Seguro de Minnesota está vigente hasta el último día de contratos de maestros; el personal y los niños deben usar máscaras, incluso en el autobús, hasta al menos el 16 de junio. También es importante tener en cuenta que St. Paul no ha levantado su mandato de toda la ciudad. Todavía no podemos hacer ninguna declaración sobre nuestros protocolos Covid para la programación de verano o el otoño.
Nuestro día de prueba semanal de Covid la próxima semana es el miércoles. Estaremos encantados de aceptar las pruebas de saliva de Vault at Home de su familia, en su bolsa sellada de riesgo biológico.
¡Y los espacios todavía están abiertos para nuestra clínica de vacunas el lunes por la mañana! Tenga en cuenta que la vacunación es gratuita, pero es útil si trae su tarjeta de seguro y la tarjeta de farmacia (si tiene una). El seguro se factura por gastos como jeringas y eliminación de objetos punzantes, un costo que no se le transferirá a usted, con o sin seguro.
Pequeña biblioteca gratuita
¡Esperamos que hayas notado nuestra nueva biblioteca gratuita frente a Cornerstone! Estamos muy agradecidos con la Sauer Family Foundation por proporcionar la biblioteca y con el Montessori Center of Minnesota por su instalación. ¡Por favor tome prestados y done libros para niños de todas las edades!
Evento de ropa gratis mañana
The Giving Rack tendrá una "venta" de cierre del negocio mañana entre las 9 am y las 3 pm Haga clic aquí para obtener instrucciones y más información.
Programa federal de Internet de banda ancha
Los hogares elegibles pueden recibir un descuento mensual en el servicio de Internet, así como un descuento único en una computadora / tableta. Las familias elegibles incluyen aquellas que califican para almuerzo gratis o reducido. Háganos saber si necesita completar una Solicitud de Beneficios Educativos, recibir beneficios para calificar o si desea recibir ayuda para acceder a este programa. Más detalles se pueden encontrar aquí.
¡Parece que tenemos un hermoso fin de semana! ¡Disfrutar!
Alyssa