Stepping Stones News 4-1-22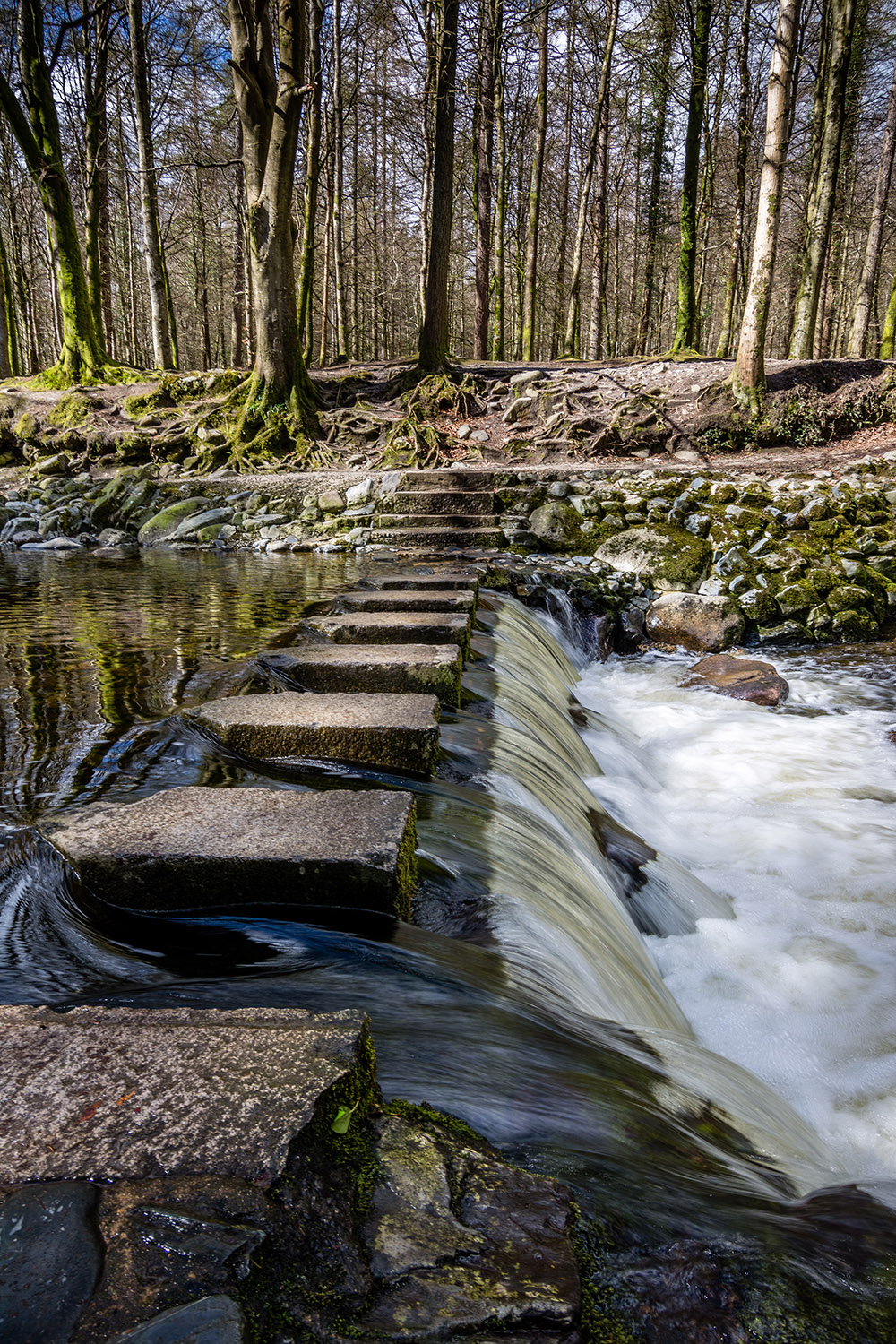 ---
Dear Families,
This has been an incredibly fun week for the elementary children! Yesterday COMPAS artists came to Cornerstone and worked with the children on soft sculpture, glow in the dark animal sculptures, water weaving, and puppet-making. And today the children are enjoying movies and a variety of activities ranging from building challenges to making play-doh. A huge thanks to our classroom assistants, Gabbie, Nou, Blake, and Tera, for designing these activities, and to Lindsay, our Elementary Program Manager, for the ideas and hard work to make it all happen.
The Children's Houses have also gotten into the playful spirit today, with popcorn, play-doh, and puzzles. Ahead of spring break, it's been a great way to use up extra energy!
Cornerstone T-Shirts
The last time we made Cornerstone t-shirts, our current 1st graders were brand new to Children's House and covid wasn't even a word. Four years later, we are looking for creative types to design a new shirt! If you have any interest in helping with this project, please contact Lindsay or parent volunteer Kara Younkin.
Free Minnesota Orchestra Tickets
The Minnesota Orchestra is offering free tickets to children ages 6-18. Click here to learn more!
Parent Partnership - April 25
Everyone's favorite Parent Partnership event, Children Teach Parents, is back this year! More information will come, but for now please reserve 5:30pm on April 25 on your calendars!
Cornerstone Cafe
In addition to all the excitement discussed above, today was one of our most well-attended Cornerstone Cafes ever! It was wonderful to see so many families and so many children presenting their work. Click here to see the videos of children's work-shares.
Spring Break
Cornerstone will be closed this coming week, April 4-8, for spring break. Chris and I will be checking email, while the rest of the staff takes some much needed time away. Please reach out if you need anything, and we look forward to seeing your children again on April 11! There will be no Stepping Stones newsletter next Friday.
Have a wonderful week,
Alyssa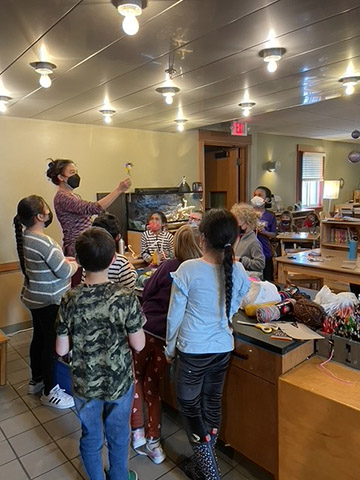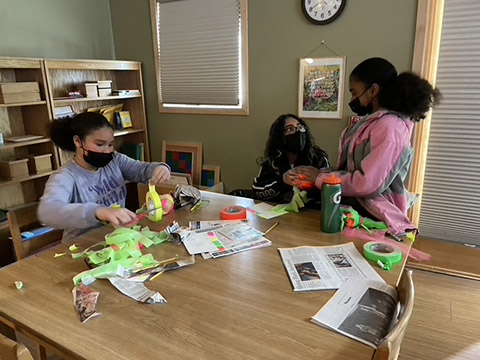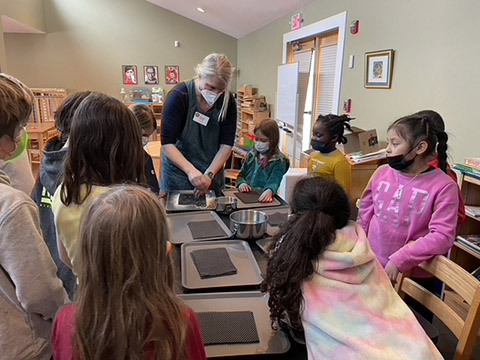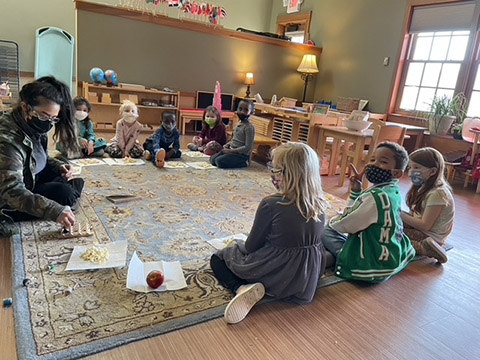 Queridas familias,
¡Esta ha sido una semana increíblemente divertida para los niños de primaria! Ayer, los artistas de COMPAS vinieron a Cornerstone y trabajaron con los niños en esculturas blandas, esculturas de animales que brillan en la oscuridad, tejidos con agua y fabricación de títeres. Y hoy los niños disfrutan de películas y una variedad de actividades que van desde construir desafíos hasta hacer plastilina. Muchas gracias a nuestros asistentes de salón, Gabbie, Nou, Blake y Tera, por diseñar estas actividades, ya Lindsay, nuestra Gerente de Programas de Primaria, por las ideas y el arduo trabajo para que todo sucediera.
Children's Houses también se han metido hoy en el espíritu creativo, con palomitas, plastilina y rompecabezas. ¡Antes de las vacaciones de primavera, esta es una manera muy divertida de usar energía extra!
Camisetas de Cornerstone
La última vez que hicimos camisetas de Cornerstone, nuestros alumnos actuales de primer grado eran nuevos en Children's House y covid ni siquiera era una palabra. ¡Cuatro años después, estamos buscando tipos creativos para diseñar una nueva camiseta! Si tiene algún interés en ayudar con este proyecto, comuníquese con Lindsay o con la madre voluntaria Kara Younkin.
Entradas gratuitas para la Orquesta de Minnesota
La Orquesta de Minnesota ofrece boletos gratis para niños de 6 a 18 años. ¡Clic aquí para saber más!
Asociación de padres - 25 de abril
¡El evento de Asociación de Padres favorito de todos, Children Teach Parents, regresa este año! Más información vendrá, pero por ahora, ¡reserve el 25 de abril a las 5:30 p. m. en sus calendarios!
Cornerstone Cafe
¡Además de toda la emoción discutida anteriormente, hoy fue uno de nuestros Cornerstone Cafés con mayor asistencia! Fue maravilloso ver a tantas familias y tantos niños presentando su trabajo. Haga clic aquí para ver los videos de los trabajos compartidos de los niños.
Vacaciones de primavera
Cornerstone estará cerrado la próxima semana, del 4 al 8 de abril, por las vacaciones de primavera. Chris y yo revisaremos el correo electrónico, mientras que el resto del personal se toma un tiempo muy necesario. ¡Comuníquese si necesita algo y esperamos ver a sus hijos nuevamente el 11 de abril! No habrá boletín de Stepping Stones el próximo viernes.
Que tengas una maravillosa semana,
Alyssa