Stepping Stones News 4-2-21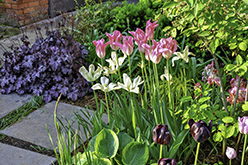 ---
Dear Families,
It has been a busy week at Cornerstone! We are so excited to see all the children after spring break (this coming week). Enjoy photos of the environments and share with your children as they anticipate their return.
2021-22 School Calendar
The school calendar for 2021-22 has been published. Please click here to download a copy. Hard copies will be distributed in your summer packets.
Covid Testing
As noted in a previous email, the Minnesota Department of Education strongly encourages children to be tested every two weeks. Staff will be tested on-site on Wednesdays (elementary) and Fridays (early childhood). You can order a free at-home test kit here and return it to Cornerstone, in its sealed bag, on April 14 or April 16, and every two weeks thereafter. This will be a standing reminder in Stepping Stones moving forward.
Minnesota Vaccine Connecter
Minnesota has opened Covid vaccinations to all adults over 16 years. Click here to add your name to the Minnesota public health lottery.
Emergency Rental Assistance
Minnesota is also offering financial support to renters and landlords who qualify for rent and utility bills dated after March 13, 2020. Click here for more information.
Special Education Funding Action Request
There is currently a bill in the Minnesota House of Representatives that would significantly impact the ability of charter schools like Cornerstone to offer our high-quality special education program. Parents of special education children, in particular, are invited to write to representatives on the House Education Committee and share why you chose a charter school and how we are meeting the needs of your child. Cornerstone's representative, John Thompson, sits on the committee and can be emailed here. To find your own representative, click here and then click on your representative's name to see their committee assignments. Thank you for your advocacy on this topic!
Movie Night - Fathers for Generations
Join Cornerstone parent Carl Hayes and Fathers for Generations at a special, free PG-13 movie night next week! The movie will take place Friday, April 9, at 7pm. Please see the attached flyer for more information and please share with your networks this fundraising and family opportunity.
Have a wonderful spring break - we look forward to seeing you on April 12!
Alyssa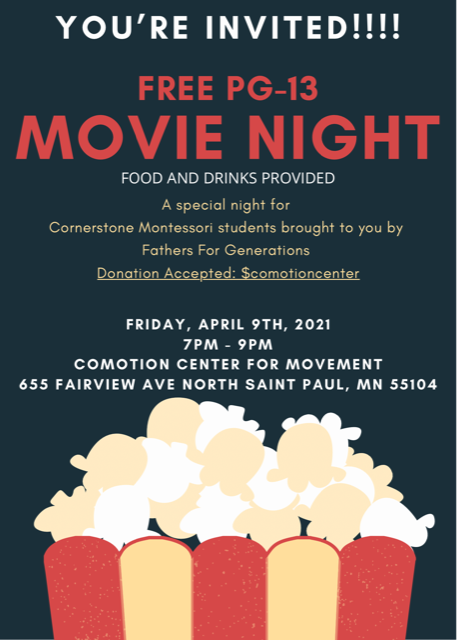 Queridas familias,
¡Ha sido una semana muy ocupada en Cornerstone! Estamos muy emocionados de ver a todos los niños después de las vacaciones de primavera (la semana que viene). Disfrute de fotos de los entornos y comparta con sus hijos mientras anticipan su regreso.
Calendario escolar 2021-22
Se ha publicado el calendario escolar para 2021-22. Haga clic aquí para descargar una copia. Se distribuirán copias impresas en sus paquetes de verano.
Prueba de Covid
Como se señaló en un correo electrónico anterior, el Departamento de Educación de Minnesota recomienda encarecidamente a los niños que se realicen la prueba cada dos semanas. El personal será evaluado en el lugar los miércoles (primaria) y viernes (primera infancia). Puede solicitar un kit de prueba en casa gratis aquí y devolverlo a Cornerstone, en su bolsa sellada, el 14 de abril o el 16 de abril, y posteriormente cada dos semanas. Este será un recordatorio permanente en Stepping Stones en el futuro.
Conector de vacunas de Minnesota
Minnesota ha abierto las vacunas Covid a todos los adultos mayores de 16 años. Haga clic aquí para agregar su nombre a la lotería de salud pública de Minnesota.
Asistencia de emergencia para el alquiler
Minnesota también ofrece apoyo financiero a inquilinos y propietarios que califiquen para el alquiler y las facturas de servicios públicos con fecha posterior al 13 de marzo de 2020. Haga clic aquí para obtener más información.
Solicitud de acción de financiación de educación especial
Actualmente hay un proyecto de ley en la Cámara de Representantes de Minnesota que afectaría significativamente la capacidad de las escuelas autónomas como Cornerstone para ofrecer nuestro programa de educación especial de alta calidad. Los padres de niños en educación especial, en particular, están invitados a escribir a los representantes del Comité de Educación de la Cámara y compartir por qué eligieron una escuela autónoma y cómo estamos satisfaciendo las necesidades de su hijo. El representante de Cornerstone, John Thompson, forma parte del comité y se le puede enviar un correo electrónico aquí. Para encontrar su propio representante, haga clic aquí y luego haga clic en el nombre de su representante para ver las asignaciones de sus comités. ¡Gracias por su apoyo a este tema!
Noche de cine - Fathers for Generations
¡Únase al padre de Cornerstone, Carl Hayes, y Fathers for Generations en una noche de película especial y gratuita para menores de 13 años la próxima semana! La película tendrá lugar el viernes 9 de abril a las 7 de la tarde. Por favor vea el volante adjunto para más información y comparta con sus redes esta oportunidad familiar y de recaudación de fondos.
Que tengan unas maravillosas vacaciones de primavera, ¡esperamos verlos el 12 de abril!
Alyssa