Stepping Stones News 4-29-22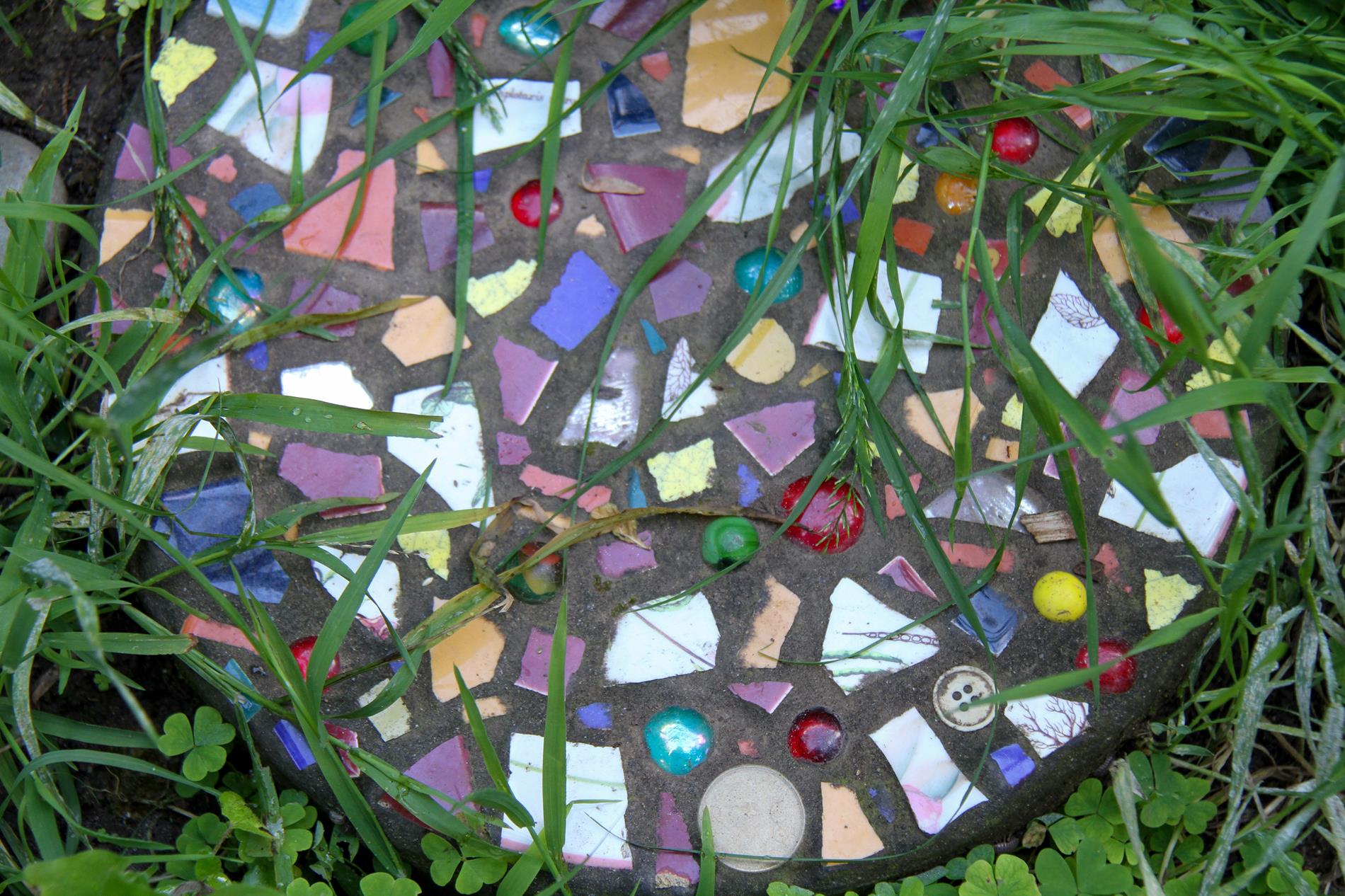 ---
Dear Families,
It's that point in the year where there is so much happening, it's hard to believe everything fits into a single week. I don't know about all of you, but I'm amazed that Children Teach Parents was just four days ago! It was absolutely wonderful to see all of you and to have our environments bustling with families on Monday. In addition to parents visiting children, this was a week for children visiting parents at Cornerstone. Our social worker, Nora, brought 10-month-old Gabe to school for an exercise in Roots of Empathy with the Upper Elementary children (sadly, no photos were taken). My Ellie also came to visit, and was treated to children reading to her and playing peekaboo. One of my favorite things about Montessori is the mixed-age group; having babies and parents in the building reinforced how important it is to expose children cross-generationally and to embrace community in its most expansive form.
Cornerstone T-Shirts
Speaking of community, it has been four years since we last offered Cornerstone t-shirts. This year, we have shirts designed by our very own Gabbie Pearson! Shirts are available in a wide variety of sizes for both children and adults; they will cost $12 apiece and no child will be denied a shirt for lack of funds. If you would like to order shirts for your family and/or donate shirts to those in need, please click here and submit your order prior to May 13. Checks can be made out to CMES.
Upper Elementary Permission Slips
Upper Elementary children will bring home permission slips today for two end of year activities: an outdoor adventure day at YMCA Camp Ihduhapi on May 24 and our annual Family Tree puberty talk on May 11. The Family Tree letter needs only to be returned if your child will not participate.
New CMES Staff
We were delighted this week to welcome Stephanie Diaz back to Cornerstone as the classroom assistant in Pond! Next week we will be welcoming a new paraprofessional to Cornerstone, as well. Norma Abbott will be joining the Upper Elementary team and we are thrilled to have her on board.
Recess-Related Happenings
As the end of the year approaches and children begin to enter the second plane of development, group activities in the Children's House begin to take on a more collaborative air. Click here to see CH2 perform a scene from The Wild Robots. The Children's Houses were also sad to see student teacher Lyrik go today. Lower Elementary para Joe saved the day by teaching the children to make paper airplanes. Not to be outdone, the Lower Elementary children had a dance party in the gaga ball pit at recess. The attached photos show the joy and opportunity in freedom of choice and movement.
Montessori All Stars
Last night's Montessori All Stars event was a huge success for the Montessori Center of Minnesota! If you missed the livestream and want to see some wonderful footage of Cornerstone, as well as partner schools like the Montessori American Indian Childcare Center, click here. And, you can help MCM reach its goal of $270,000 raised, money that supports scholarships for Cornerstone Montessori School, by clicking here.
Upcoming Dates
Next Friday, May 6, is our next Cornerstone Cafe. Join us 8:30-9:30 in the MCM coffee bar area for children sharing their work and conversations with other families. The following Friday, May 13, is an in-service day; please note there will be no school for CMS or CMES that day.
Stay dry this weekend!
Alyssa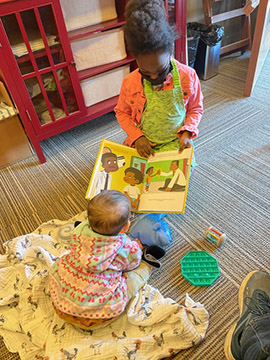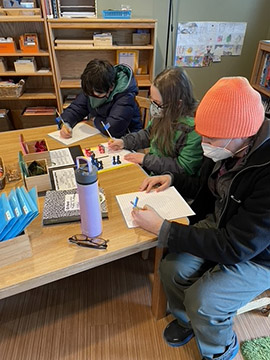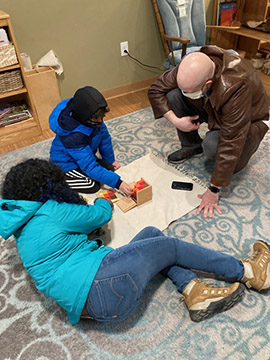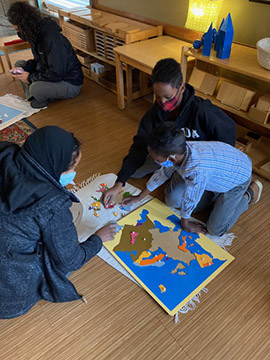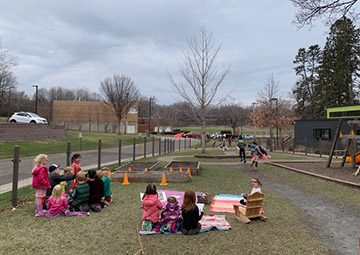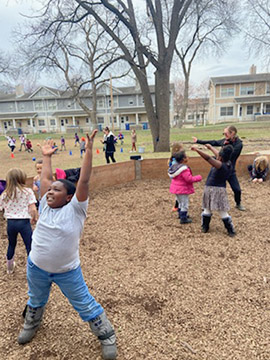 Queridas familias,
Es ese punto del año en el que pasan tantas cosas que cuesta creer que todo encaje en una sola semana. No sé todos ustedes, ¡pero me sorprende que Children Teach Parents fuera hace solo cuatro días! Fue absolutamente maravilloso verlos a todos y tener nuestros ambientes llenos de familias el lunes. Además de las visitas de los padres a los niños, esta fue una semana para que los niños visitaran a los padres en Cornerstone. Nuestra trabajadora social, Nora, trajo a Gabe, de 10 meses, a la escuela para un ejercicio de Raíces de empatía con los niños de Upper Elementary (lamentablemente, no se tomaron fotos). Mi Ellie también vino a visitarme, y los niños le leyeron y jugaron al escondite. Una de mis cosas favoritas de Montessori es el grupo de edades mixtas; tener bebés y padres en el edificio reforzó lo importante que es exponer a los niños a través de generaciones y abrazar la comunidad en su forma más amplia.
Camisetas de Cornerstone
Hablando de comunidad, han pasado cuatro años desde la última vez que ofrecimos camisetas de Cornerstone. ¡Este año tenemos camisetas diseñadas por nuestra propia Gabbie Pearson! Las camisetas están disponibles en una amplia variedad de tallas tanto para niños como para adultos; costarán $12 cada uno y a ningún niño se le negará una camiseta por falta de fondos. Si desea pedir camisetas para su familia y/o donar camisetas a los necesitados, haga clic aquí y envíe su pedido antes del 13 de mayo. Los cheques se pueden hacer a nombre de CMES.
Hojas de permiso de Upper Elementary
Los niños de Upper Elementary traerán a casa formularios de permiso hoy para dos actividades de fin de año: un día de aventuras al aire libre en YMCA Camp Ihduhapi el 24 de mayo y nuestra charla anual sobre la pubertad de Family Tree el 11 de mayo. La carta de Family Tree solo debe devolverse si su hijo no participará.
Nuevo personal de CMES
¡Estuvimos encantados esta semana de dar la bienvenida a Stephanie Diaz de regreso a Cornerstone como asistente de clase en Pond! La próxima semana también le daremos la bienvenida a Cornerstone a un nuevo paraprofesional. Norma Abbott se unirá al equipo de Upper Elementary y estamos encantados de tenerla a bordo.
Acontecimientos relacionados con el recreo
A medida que se acerca el final del año y los niños comienzan a entrar en el segundo plano de desarrollo, las actividades grupales en Children's House comienzan a tomar un aire más colaborativo. Haga clic aquí para ver a CH2 realizar una escena de The Wild Robots. Children's House también se entristecieron al ver que la estudiante de magisterio Lyrik se iba hoy. Lower Elementary para Joe salvó el día enseñando a los niños a hacer aviones de papel. Para no quedarse atrás, los niños de Lower Elementary tuvieron una fiesta de baile en la piscina de bolas gaga durante el recreo. Las fotos adjuntas muestran la alegría y la oportunidad en la libertad de elección y movimiento.
Montessori All Stars
¡El evento Montessori All Stars de anoche fue un gran éxito para el Centro Montessori de Minnesota! Si se perdió la transmisión en vivo y desea ver imágenes maravillosas de Cornerstone, así como de escuelas asociadas como el Montessori American Indian Childcare Center, haga clic aquí. Y puede ayudar a MCM a alcanzar su meta de $270,000 recaudados, dinero que apoya becas para la escuela Cornerstone Montessori, haciendo clic aquí.
Fechas siguientes
El próximo viernes 6 de mayo es nuestro próximo Cornerstone Cafe. Únase a nosotros de 8:30 a 9:30 en el área de la cafetería de MCM para que los niños compartan su trabajo y conversaciones con otras familias. El siguiente viernes, 13 de mayo, es un día de servicio; tenga en cuenta que no habrá clases para CMS o CMES ese día.
¡Mantente seco este fin de semana!
Alyssa