Stepping Stones News 5-13-22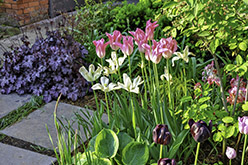 ---
Dear Families,
What a beautiful week it was, minus the big storm! Enclosed here are photos of Children's House 1 picnicking outside, Children's House 2's chalk cityscape, and Lower Elementary looking for frogs in the pond and posing with the puppets made during yesterday's COMPAS visit. Being able to embrace our outside environment is such a positive opportunity for all the children.
Warm Weather Clothing
Children and staff alike need to wear closed-toe shoes at school, even when it's nice and warm out. This is a requirement of the Department of Human Services for our Children's Houses and Toddler Community and is for the children's safety in the elementary. Thank you for keeping sandals at home. We also highly recommend applying sunscreen to your children before they come to school. We will provide sunscreen for all of our classes before recess, but children do spend time outside in the mornings as well. Children in the Early Childhood program may only bring their own sunscreen with a doctor's note.
Covid Cases Rising
Covid cases are back on the rise in Minnesota (and at Cornerstone). We are continuing to notify classroom communities when there is a positive case. Please continue to notify us if your child tests positive and follow the CDC's isolation and quarantine guidance for children who are symptomatic, test positive, or are exposed to Covid. Children with fevers over 100.4 degrees may not come to school until they have been fever-free, without medication, for 24 hours. We appreciate your support in keeping our whole community healthy by following these protocols.
Short and sweet, this week! Have a beautiful weekend.
Alyssa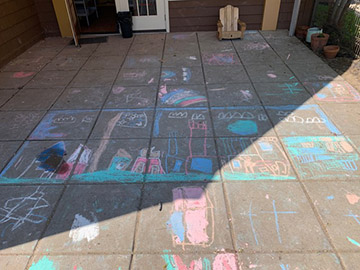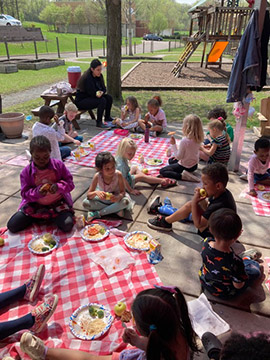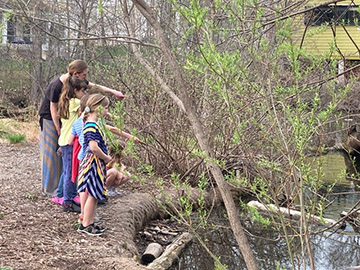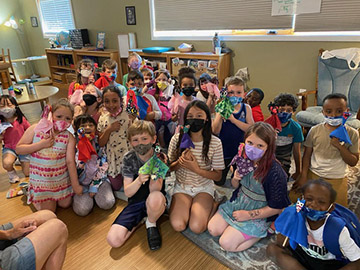 Queridas familias,
¡Qué hermosa semana fue, sin la gran tormenta! Adjunto aquí hay fotos de Children's House 1 haciendo un picnic afuera, el paisaje urbano de tiza de Children's House 2 y Lower Elementary buscando ranas en el estanque y posando con los títeres hechos durante la visita COMPAS de ayer. Ser capaz de abrazar nuestro entorno exterior es una oportunidad tan positiva para todos los niños.
Ropa para clima cálido
Tanto los niños como el personal deben usar zapatos cerrados en la escuela, incluso cuando hace buen tiempo y hace calor. Este es un requisito del Departamento de Servicios Humanos para nuestras Children's Houses y Toddler Community y es para la seguridad de los niños en la escuela primaria. Gracias por tener sandalias en casa. También recomendamos aplicar protector solar a sus hijos antes de que vengan a la escuela. Proporcionaremos protector solar para todas nuestras clases antes del recreo, pero los niños también pasan tiempo al aire libre por las mañanas. Los niños en el programa de Primera Infancia solo pueden traer su propio protector solar con una nota del médico.
Aumento de casos de covid
Los casos de covid han vuelto a aumentar en Minnesota (y en Cornerstone). Continuamos notificando a las comunidades de los salones de clase cuando hay un caso positivo. Continúe notificándonos si su hijo da positivo y siga la guía de aislamiento y cuarentena de los CDC para niños sintomáticos, positivos o expuestos a Covid. Los niños con fiebre de más de 100.4 grados no pueden venir a la escuela hasta que hayan estado sin fiebre, sin medicamentos, durante 24 horas. Agradecemos su apoyo para mantener saludable a toda nuestra comunidad siguiendo estos protocolos.
¡Breve y dulce, esta semana! Que tengas un hermoso fin de semana.
Alyssa