Friends of Cornerstone News
Fall 2021
We're Back!
We are three months into the new school year and are finding our footing and rhythm in this new world! After a very successful summer school session when we could be together outdoors, we are conducting our regular classes indoors and in person once again. It is truly a joy to see the children in their classrooms again, learning new things and enjoying being with their classmates and teachers!
In September, Upper Elementary children celebrated the International Day of Peace. Activities included learning about Peace Day and weaving a "peace wish" on the front fence at CMES.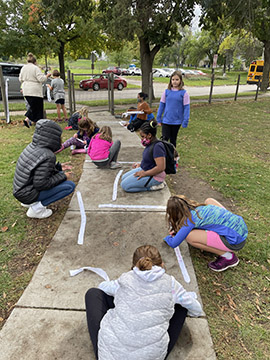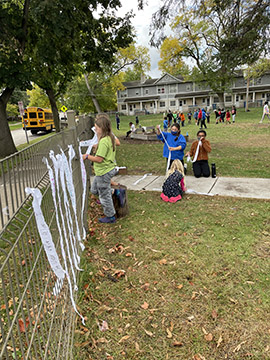 Safe Learning at Cornerstone
We are so grateful to Head of School Alyssa Schwartz (currently on parental leave), Acting Head of School Say Vang, and all of the Cornerstone staff for their extraordinary efforts to creatively and effectively do their jobs under challenging and rapidly changing circumstances over the past two years (yes, it HAS been that long!) Their flexibility and ability to "pivot" quickly has been amazing! Supporting their efforts is critical to helping our students and our community at this challenging time.
During the 2019-20 school year, Cornerstone created a Safe Learning Plan to guide our response to the public health crisis of COVID. The Plan orients Cornerstone parents, families and staff to how the school will handle different scenarios with respect to COVID. As you might expect, the Plan is being continually reviewed and updated as new guidance becomes available and new situations arise.
Happy Birthday, CMES!
This Fall marks 10 years since Cornerstone Montessori Elementary School became a charter school! We started in 2011 with 58 children and have grown to our current enrollment of 138. In the 10-year timeframe, we have served more than 1,300 children in grades K-6. Interim Head of School, Say Vang and two of our founding board members, Melissa Santrach and Liz Coenen, accepted our 10-Year Milestone Award at the Annual Minnesota Association of Charter Schools meeting in October.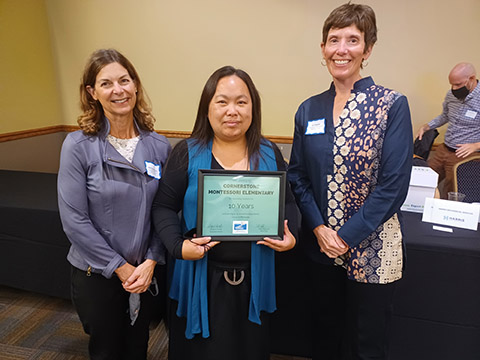 Another celebration this year: In 1991, the Minnesota Legislature enacted the nation's first chartered public school law. From the beginning, chartered public schools were designed by the Legislature to be unique organizations: a non-profit operating a public school (every charter school is a school district); employees that are at-will, but public employees for retirement purposes; schools focused on innovation and accountability in exchange for autonomy; public schools that cannot use public funds to purchase or build facilities; and governance boards whose majority of members were teachers employed by the school. Read the fascinating story of how the legislation came about at the Minnesota Association of Charter Schools website!
Equity Initiatives
To further implement the "Equity" initiative in our Strategic Plan, CMES has hired a company to conduct an equity audit of our school. The work began November 1 with a survey of all community members including students. We appreciate their sharing their voices and experiences, which will put us on the path to achieving a more equitable place of learning.
Definition of Educational Equity: Educational Equity is defined as each student, particularly students from marginalized identities, receiving the support needed to be successful in school. The key constructs of educational equity are identified as: access to rigorous, challenging courses; meaningful participation and engagement; cultural representation and voice; and positive academic and social results and outcomes for each learner, especially those from diverse racial, ethnic, and low socioeconomic backgrounds.
Enrollment Update
The "Sustainability" initiative in our Strategic Plan requires us to have a long-term vision for our school. We were pleased to start the year with our K-6 enrollment back up to just three students fewer than pre-pandemic numbers. Our kindergarten sections are full this year and have a waiting list.
The Cornerstone Board of Education is continuing to evaluate expansion potential for CMES. They are looking at the possibility of adding another elementary section (grades K-6) as well as expanding into a junior high school level (grades 7-8).
Adding another elementary section will depend on continued demand at that level. Adding a junior high school level has been requested by some parents of 5th and 6th graders. This, plus higher demand at the 5th and 6th grade levels will influence adding higher grades. Research indicates a more natural "break point" in child development between grades eight and nine rather than six and seven. The Board will be studying the research as well as the experience of other charter schools, and looking to the University of St Thomas, Cornerstone's Authorizing Agency, for input.
Donate to Cornerstone
Give to the Max Day is Thursday, November 18th this year, but giving is already underway! Go to the givemn.org website and click on "prize grants" to see all the ways to stretch your contribution! Search for "CMES" to take you directly to our donation page.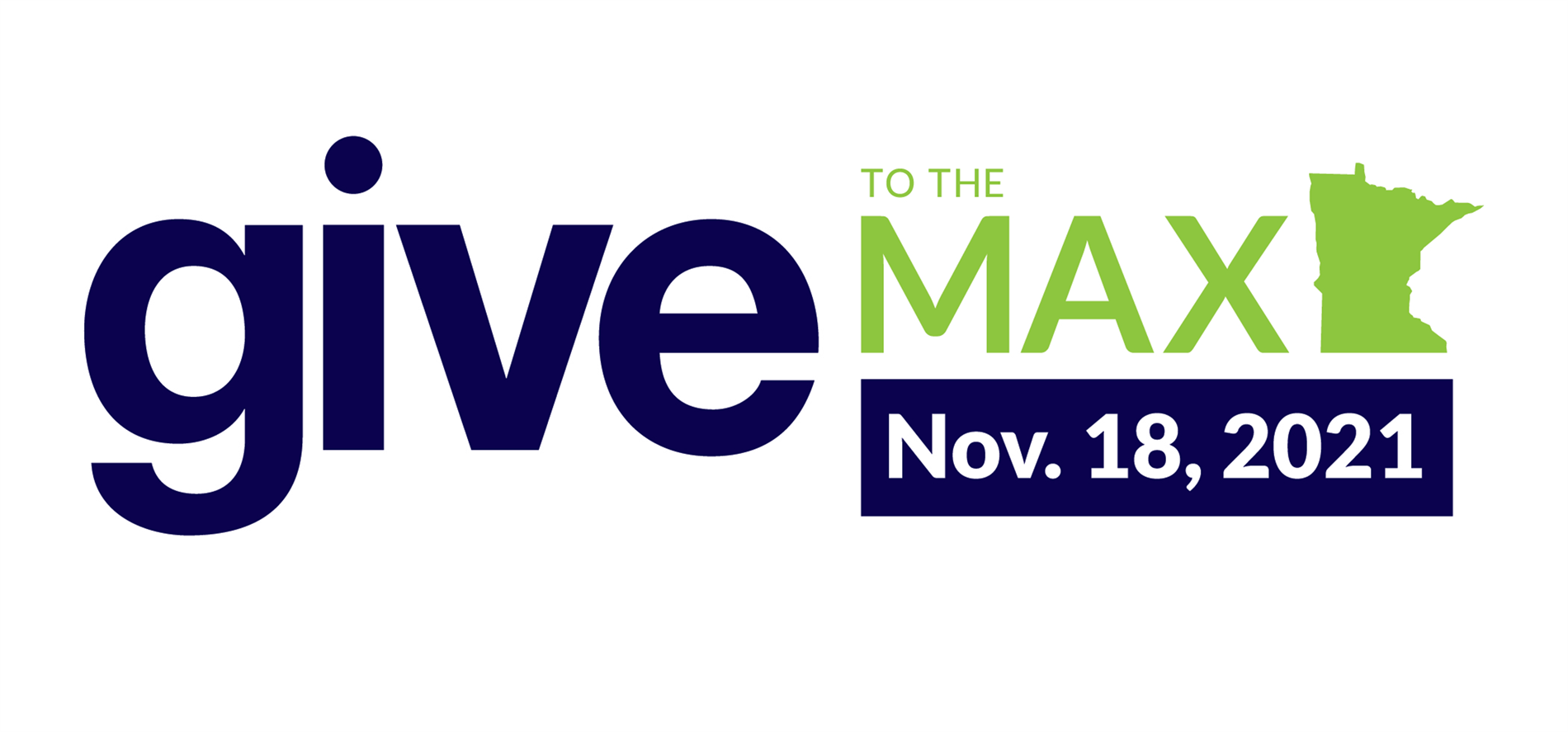 Your donation to CMES in any amount will help:
Support our successful literacy program, which has already resulted in strong gains -

even with disruptions due to Covid, nearly 75% of our 3rd graders are reading at or above grade level.

Continue efforts on improving math proficiency through teacher mentoring and support, as well as specialized math practice materials (we had barely started this when COVID intervened);

Provide school-based mental health services for individuals and groups of children directed toward self-care and healthy relationships, another successful program started at CMES;

Help fill our library with culturally responsive and inclusive books - our library was used even more than usual during distance learning;

Provide after- and before-school programs;

Buy winter clothes for some of our students.
If you can't wait for November 18th, just click the DONATE button below! And thank you!!!